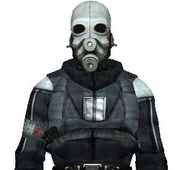 Promoted from recruit, the ground units are the primary units that you will see patrolling the streets of a city. 01 is the highest ground unit rank, and the higher the rank, the stronger the unit and the more brainwashed the unit is. The 03 is usually the rank that a unit will get slightly brainwashed, but this can differ.
The ground units of HL2 are most similar to modern day police officers. But not in the area where they beat people for no reason. These units are on a track to future promotion, which means some Recruits may RP as ones who are sighted on becoming a higher rank, or possibly some who are just normal citizens in suits.
Community content is available under
CC-BY-SA
unless otherwise noted.